In less than a decade, Car Rental 8 has become a price leader and popular destination for online travel services.  They are a USA based corporation that offers car rental reservations in 125 countries and 17,000 locations around the world. The online booking website receives over 100,000 visitors each month! They have rental supply agreements with major car rental companies such as, Hertz, National, Alamo, to name a few. Car Rental 8 delivers a cost effective and convenient online reservations experience – wherever you want to go in the world!  They have grown from humble beginnings on 08-08-08, to today's global corporation. But, Car Rental 8 continues to proudly serve travelers across America and around the world!
The Story Behind "8"
Many people want to know the story behind the "8" in Car Rental 8, or the reason for opening their doors on 08-08-08. The number 8 is widely regarded as a lucky number around the globe. If you look at the number "8" you'll realize its symbol never breaks, therefore representing infinity. Much like lucky number 8, Car Rental 8 wishes to represent infinity: forever growing and forever improving, so that they can continue to serve new clients across the United States and around the world.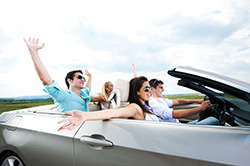 How It Works
Using the Car Rental 8 online booking system, you confirm with one of their major car suppliers. Once confirmed, you receive an email that has your prepaid car rental voucher. This contains all of the information you will need to pick up the vehicle. You will pick up the car from the major car supplier listed on your voucher. Car Rental 8 has had customers contact them looking for Car Rental 8, but then realize that it is actually printed on their voucher as Dollar, Alamo, Hertz, or some other brand.
The low rates are based on confirmed car pickups with their partners. By prepaying, you get the best rate for early confirmation and a guarantee that your car is available. To assist their customers, the website supports several languages as well as multiple currencies.
Car Rental 8 is chosen by more travelers each year because of their ability to also provide the ultimate option – The 8 Protect Package. Choose this option when booking your next rental car to avoid paying a cancellation fee in the event that your travel plans should change. They also cover part of your deductible in the event of an accident or minor incidents such as windshield or tire damage.
Testimonials:
Just got back from our 3 week stay at Ft,Myers Beach where we rented a cut little VW Beatle by way of CR8. Everything was great! What a great price! Thank you, thank you – BLD
Hi, just rented a car for a month or so in usa, l am in Australia…Just gotta say best service, and plenty of contact to check l am all ok…will recommend to my friends…thanks – Jock W
The best deal on the internet! Thank you! – Donna M
My experience with carRental8 is absolutely fantastic from the time we picked up our car and we upgraded to the time we dropped off the car it was smooth and easy. I/we really liked the idea of offsite rental and pickup. We look forward to using CarRental8 on our next trip to the USA, in fact we are planning a trip to Hawaii in November and have been looking at CarRental8 already. – Steve S.